Become a CGEE Ambassador!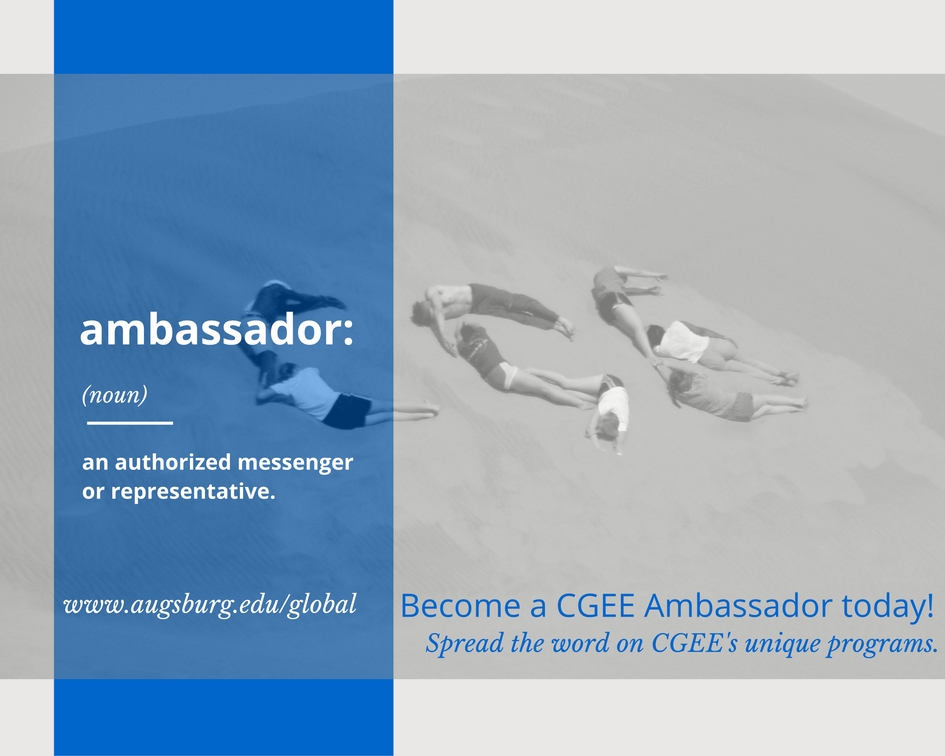 This program is for any student* that studied abroad on a Augsburg CGEE semester or summer program that has a passion and excitement for the experience in Mexico, Central America, or Southern Africa!
*Please note this page is only for non-Augsburg students. If you are an Augsburg student, please refer to Maren Stoddard Mack (stoddard@augsburg.edu) for the Global Auggies Program.
Ambassador Duties:
Complete (at least) four activities

these may change semester to semester, but typically we have ambassadors table in their student union, provide an online profile/interview for use in brochures and websites, help at your study abroad fair, speak in classrooms, and many other activities you can choose from.

One semester-long contract.
Receive up to $100 stipend in the form of gift cards for your time.
Qualifications:
Have completed one of CGEE's semester or summer programs.
Be an enthusiastic supporter of CGEE.
Willing to discuss your personal experiences abroad with other students.
All majors and academic disciplines are welcome to become ambassadors.
How to Apply:
Complete this simple google form

Applications for spring 2018 will be open December 1! Please complete by January 15, 2018 to be considered.
How Are Ambassadors Chosen?
We review each application and choose ambassadors that we believe will be fantastic representatives for the program, so show us your enthusiasm for the programming in your application!
We may also review which programs or campuses could use extra recruitment help.
Due to limited funds, we are not able to always accept each person that would like to participate.
Questions?
Send an email to Lucy Hardaker at hardaker@augsburg.edu